Youth Climate Stories - Storytelling Campaign

At the Global Youth Climate Action Fund, we believe in the importance of storytelling to inspire change and action. For this reason, we are setting up the Youth Climate Stories platform to give young people a voice to share their experiences, challenges they have endured, and how they overcame these challenges in the face of the climate crisis. If you are a young person, 30 years old and below, we invite you to fill out the form below and share your story with us. We are looking for stories about youth involvement in climate and environmental issues. It could be a first-hand account of how you and your community is affected by climate change, your contribution to your community, with regards to climate change and environmental conservation, or a climate smart innovation that helped solve a challenge in your community. We want to highlight actions from the youth sector, especially those in developing nations who are most vulnerable to the major risks brought by the climate crises. Submitted stories will be published on our Youth Climate Stories web-page and social media pages. Every three months, the most impactful story will receive a cash prize of USD 100 vetted by the criteria indicated below. This story will be given a special feature on the website, and a special mention on our monthly newsletter.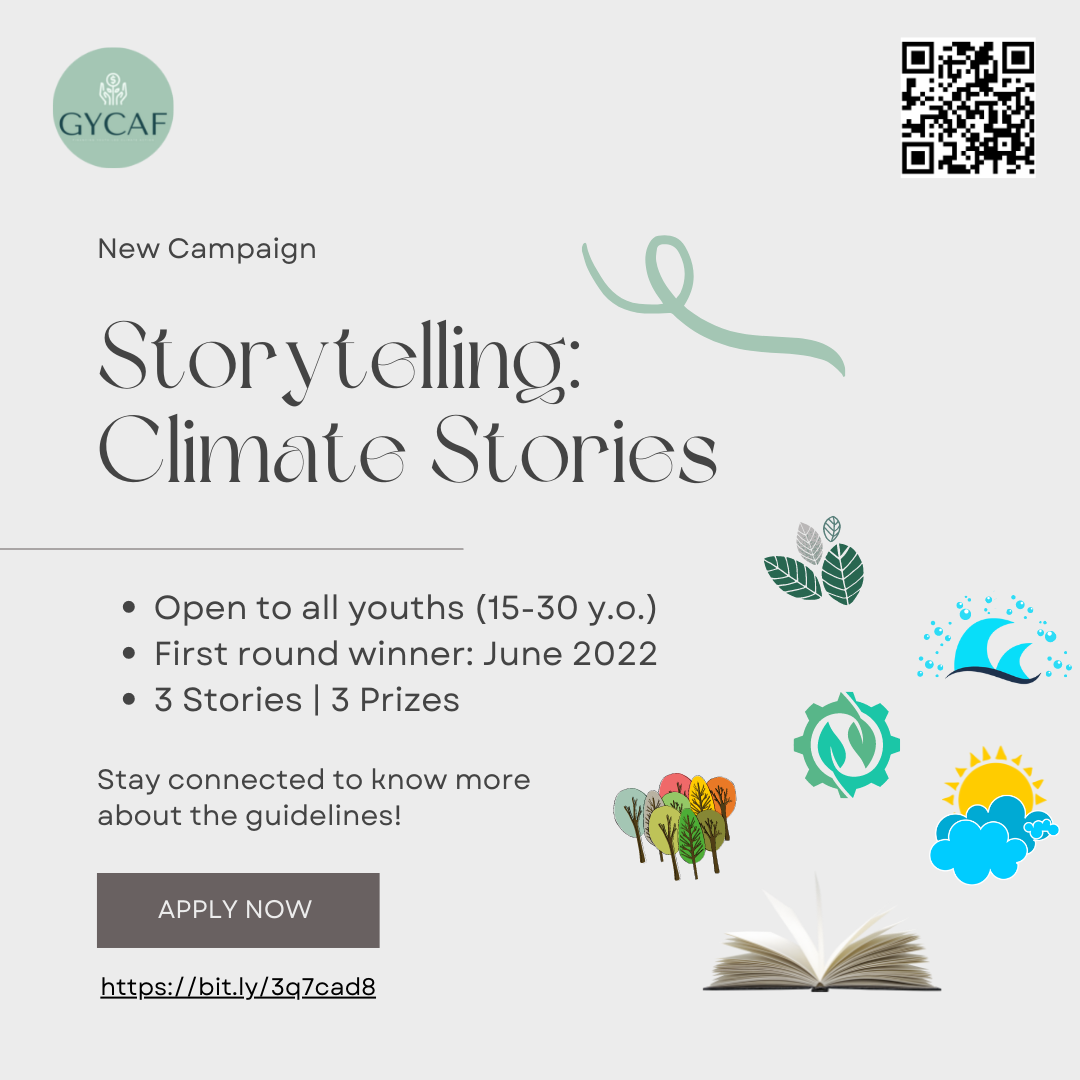 1. We will only accept ORIGINAL stories.
2. You may submit a WRITTEN or VIDEO entry. If you're submitting a video, please upload it to a virtual drive and then share the link with us.
3. We will accept stories in ENGLISH, SPANISH, or FRENCH.
4. If submitting a written story, please limit it to max. 1,000 words.
5. If submitting a video, please limit to maximum of 3 mins.
6. Submissions are accepted for young people 30 years and below.
First Round Deadline: June 30, 2022
STORY SELECTION CRITERIA:
20% COMMUNICATION - how well was the story conveyed given the technical guidelines?
20% CREATIVITY - how engaging is the story and how does it stand out from the rest?
20% IMPACT - how memorable was the story, and how much impact will it create on the region?
20% RELATABILITY - which story effectively relates the personal experience to the global climate situation?
20% RELEVANCE - how relevant is the story to the climate situation in that specific region?
For inquiries about this campaign, write to us at stories@gycaf.org.